【SLIM FIT MEAL REPLACEMENT】OXYDRINKS 600g + FREE GIFT
PRODUCT EXPIRY DATE
PRODUCT DESCRIPTION
Taiwan Best Selling, more than 100,000 tins sold out in year 2017.
Top 1 and Best Selling in Taiwan Online E-Commerce (momo shopping, udn shopping @July 2018)
Awarded Taiwan First Brand by the year 2015.
Taiwan celebrity, bloggers, users, media thumbs up for this Oxydrinks.
Ideal meal replacement for those on diet /weight management for your calorie intake.
It brings you healthy and balance nutrients in a convenient way to replenish vegetables, whole grains while meeting the body's basic needs.
100% natural whole foods selected from 22 kinds of different colors superfoods.
High in fiber, calcium, iron.
Low in sodium, no sugar added, no artificial added.
Low calories, only 103.8 cal per cup.
Tested and Certified by International SGS, HACCP, ISO.
2 tins can made up 48 cups (A☕ = RM5.60)

FAQ
1. How is the taste for Oxydrinks?
Oxydrinks do not added any sugar and flavouring, so you tatse the pure and natural faint scent of cereals!

2. I'm on loose weight or weight control, How to consume Oxydrinks? Suggested use Oxydrinks as meal replacement for lunch or dinner. 4 spoons of Oxydrinks dilute with little water and mix well with hot or lukewarm water. You may added nuts / dried fruits / fruits / hot soya bean to consume together.
🍇 dried fruits such as grape, berries with portion size as your fist
🥦 dried vegetable with portion size as your fist
🥜 nuts / grain wityh portion size as your palm

3. For Body Shape Lover - It is recommended that 3-4 scoops Oxydrinks mix with low-sugar or sugar-free soy milk after exercise, this may change the "stagnation period" of loosing weight. A cup of Oxydrinks also contains protein, low carbo, dietary fiber and other nutrients may reduce the secretion of hungry, reduce fat and cholesterol absorption, and help the body regulate blood fat.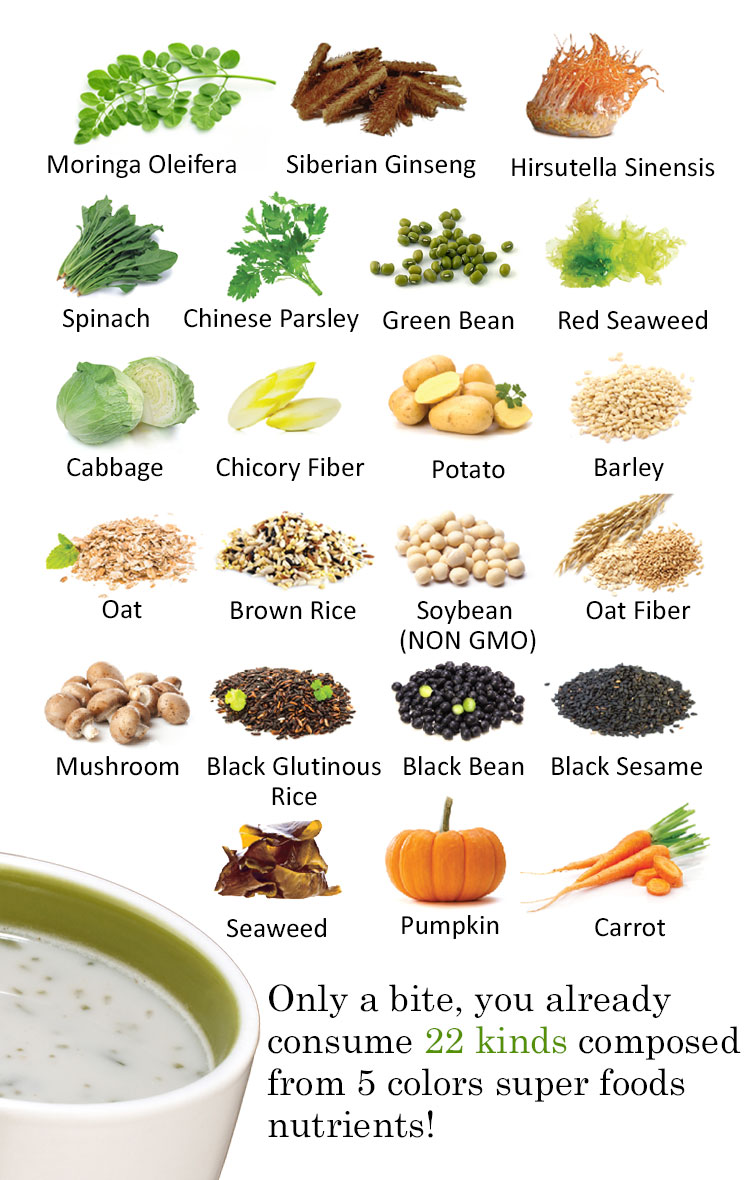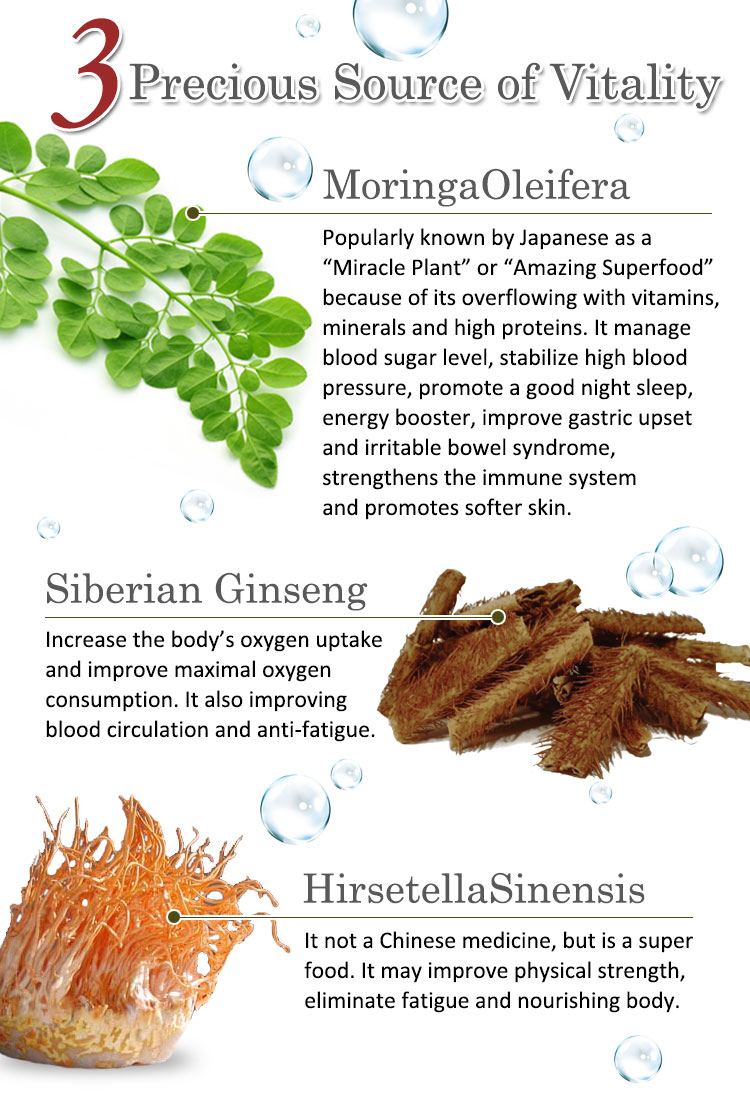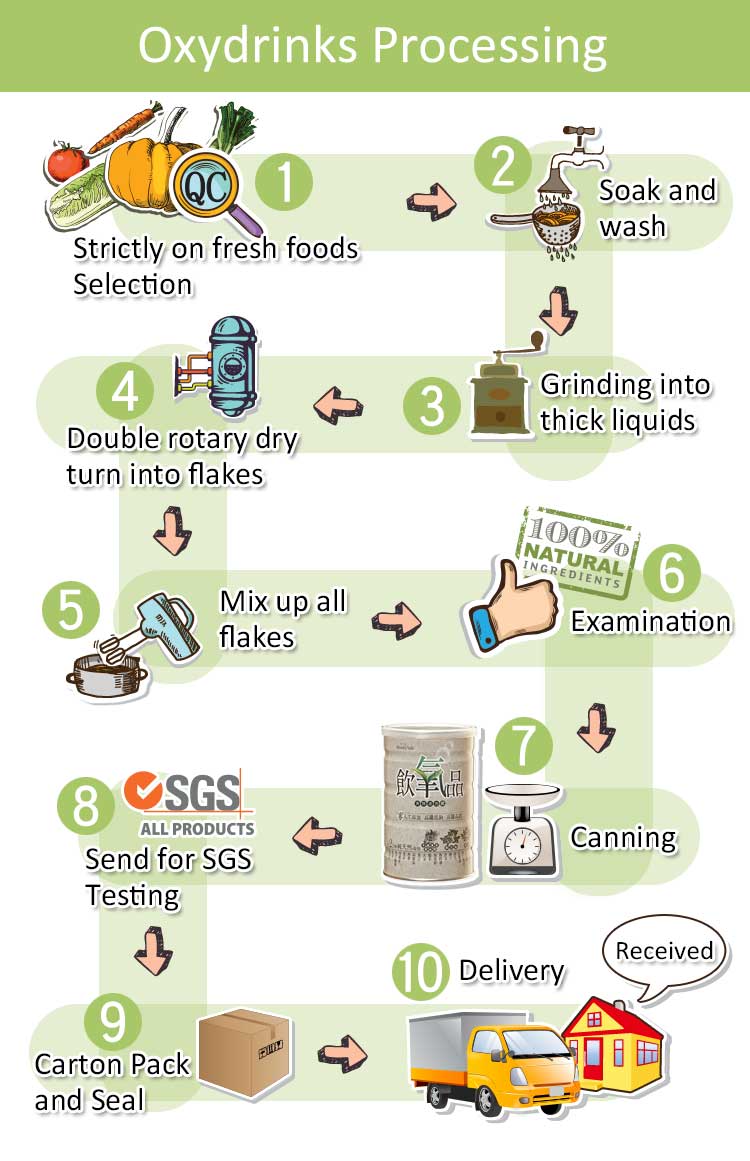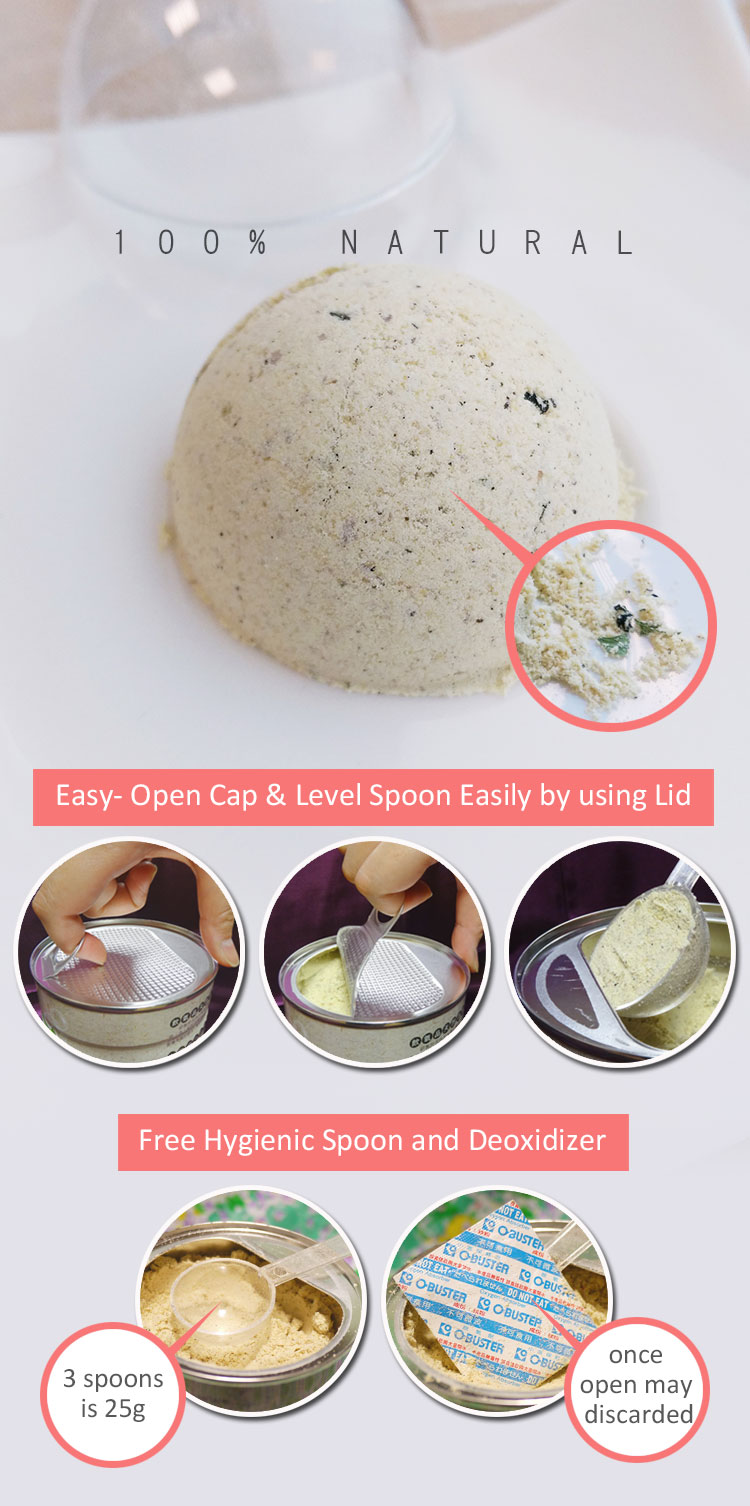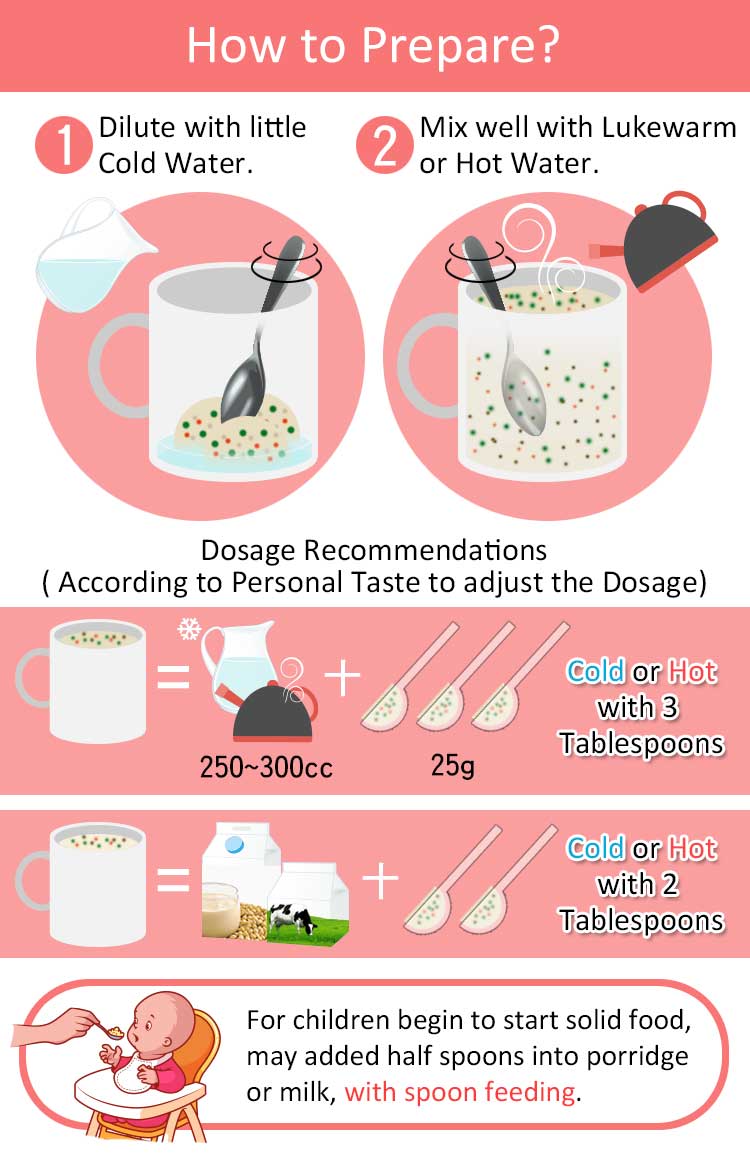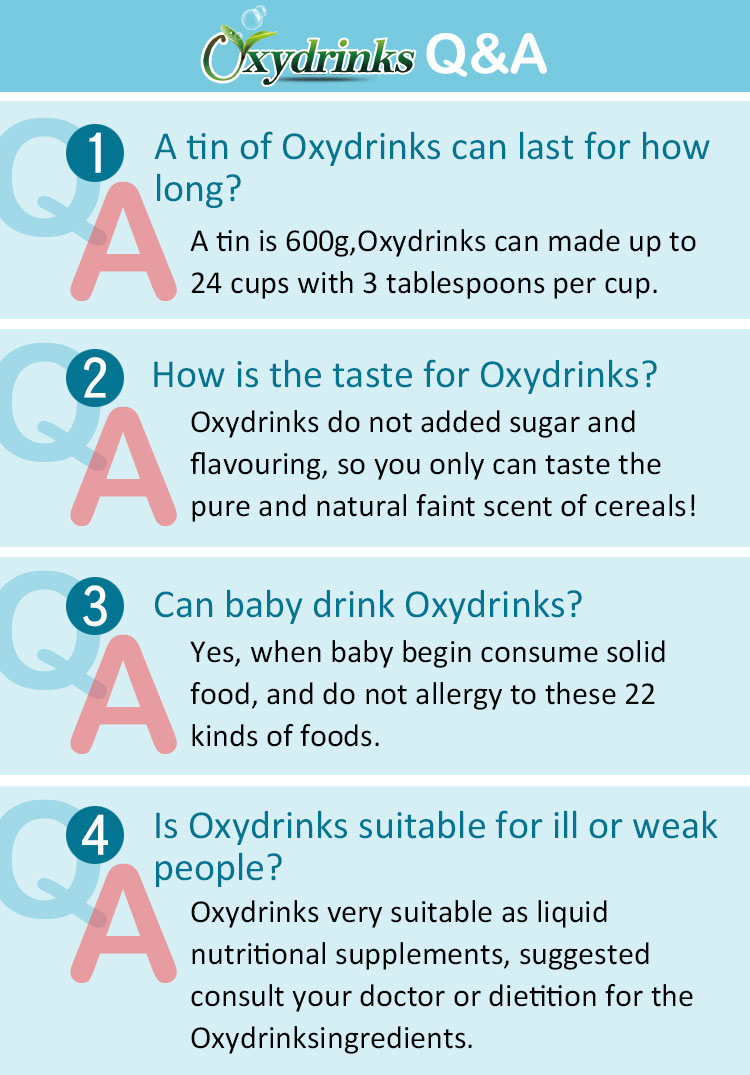 商品特色
台湾网络销售冠军(momo购物网, 买东西udn shopping)

2017年销售过百万瓶

许多知名艺人、部落客、网红、媒体、爱用者大力推荐为好商品

2015年 荣获台湾第一品牌奖

非常适合当作代餐和体重控制的饮品,耐饱好喝,完全不会甜

建议每天2杯,补充均衡营养同时也把身体的毒素排出体外

2 2 种纯天然五色食材( 蔬菜/谷物/薯类/瓜类/菇类/海藻/补气食材)研磨制成粉末,超方便饮用

食材都是高纤维、高钙、高铁、低钠、无糖、0人工添加

非常低的热量,每杯才103.8Kcal

经过国际的SGS,HACCP, ISO 多项食品安全严格检验通过

2罐可以冲泡48杯 (每一杯☕ = RM5.60) - 非常低的价格,营养价值非常高

问与答
1. Oxydrinks是什么味道?Oxydrinks完全没有添加糖和凋味剂,它是淡淡的米类/谷类的味道,还带有淡淡的海带味道,不会填,没有奶的味道,多喝也不会腻,好喝!

2. 我在瘦身/控制体重,要如何饮用Oxydrinks?我们建议Oxydrinks当作你的代餐,可以选择午餐或者晚餐进行代餐。4汤匙的Oxydrinks 加入白开水把粉末拌开,然后加入热水/温水冲泡即可,可以随自己的喜好加入麦片、坚果、干果或者热无糖豆奶一起饮用(这样比较耐饱)
🍇 干果如葡萄、草莓等,取你的拳头的量为一份
🥦 干蔬果,取你的拳头的量为一份
🥜 坚果/谷类 取你的手心的量为一份

3. 维持苗条身形要如何饮用?运动后透过高纤维的饮食搭配可以打破瘦身的"停滯期",不只能增加饱足感,还有帮助强化运动后增加肌肉和减脂肪的效果!建议运动后可以搭配低糖或无糖豆奶冲泡饮氧品 ,同时具有蛋白质、醣类、纤维质等营养,豆奶中的纤维质,还可降低饿素分泌、减少脂肪和胆固醇吸收,并帮助调节血脂。